Edge of Insanity Pre Workout
Edge of Insanity by Psycho Pharma is a high stim pre workout made for stim junkies without illicit stims. 

Edge of Insanity focuses on caffeine and a higher than usual dosage of two forms of yohimbine. Super potent stuff!
Edge of Insanity Supp Facts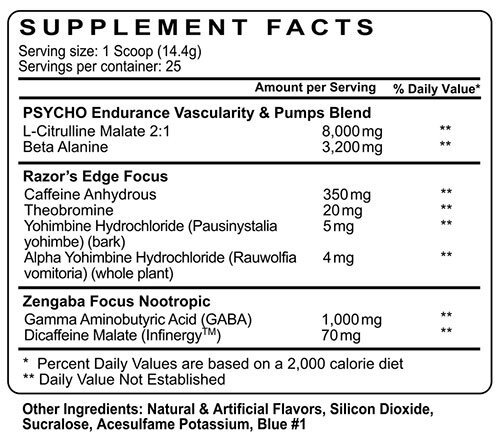 Beta Alanine

L-Citrulline Malate 2:1
Caffeine Anhydrous

Theobromine

Yohimbine Hydrochloride (Pausinystalia yohimbe)(bark)

Alpha Yohimbine Hydrochloride (Rauwolfia vomitoria)(whole plant)
Gamma Aminobutyric Acid (GABA)
Dicaffeine Malate (Infinergy)
Is Edge of Insanity for me?
If you are looking for an intense high stimulant pre workout, Edge of insanity is for you! If you can handle high Yohimbine and Alpha Yohimbine, this is for you.
Edge of Insanity FAQ's
Does Edge of Insanity Clump?
It can clump due to the 8 grams of Citrulline Malate.
No, Edge of Insanity is creatine free.
How much caffeine does Edge of Insanity have?
The total caffeine content between Caffeine Anhydrous and Dicaffeine Malate is 420mg per scoop.
Favorite preworkout!
Right now this product is my favorite pre. It has a perfect amount of high stim activity without carrying on too far into the rest of the day. It IS intense now, not for the feint of heart. Not a beginner's pre. I am a fan of the alpha yo. GREAT PREWORKOUT.
Amazing
The stim is no joke, I'm a consistent pre user for years and had to start with half of scoop. My favorite party of this pre is the focus you get. Would buy again for sure.
Edge of insanity
This pre provides me exactly what I need to get a great workout.