Crack Primal Pre Workout
Dark Labs has done it again with a new variant of the Crack series, Crack Primal. Crack Primal Pre Workout is a very high stim pre workout. As with most other Dark Labs products this is for experienced users only.
Crack Primal Highlights
25 Servings
Better Flavors
Stim Junkie Pre Workout
Crack Primal Ingredient Highlights
Citrulline Malate - 6000mg
Beta Alanine - 3200mg
Agmatine Sulfate - 1000mg
Beta Phenylethylamine - 500mg
Alpha GPC - 500mg
Tyrosine - 500mg
Eria Jarensis - 300mg
Juglans Regia - 250mg
Di Caffeine Malate - 200mg
Halostachine - 150mg
Synephrine - 25mg
Black Pepper Extract (Piperine) - 10mg
Alpha Yo - 1.75mg
Crack Primal FAQ
Where does this stack up to the other Dark Labs Pre Workouts?
This is going to be a higher stim pre workout from their collection. Not as strong as Flame v2, but it will be up there.
How much caffeine is in Crack Primal?
There is 675 total caffeine from 3 different sources. Its important to remember this is not the active yield but remember to assess your tolerance with less than half the full serving size.
Decent
Good energy. Good focus. I use sicario swole, so good pumps.
Phenomenal
This is my personal Favorite CRACK version stying with this one for while
PRIMAL
I was skeptical. However this didn't disappoint. It creeps up on me and I can end up lifting for 2 hours no problem. Better than the gold edition in my opinion.
Thats my experience.
It hits
Very happy with this product, fast shipment too.
Check out my review below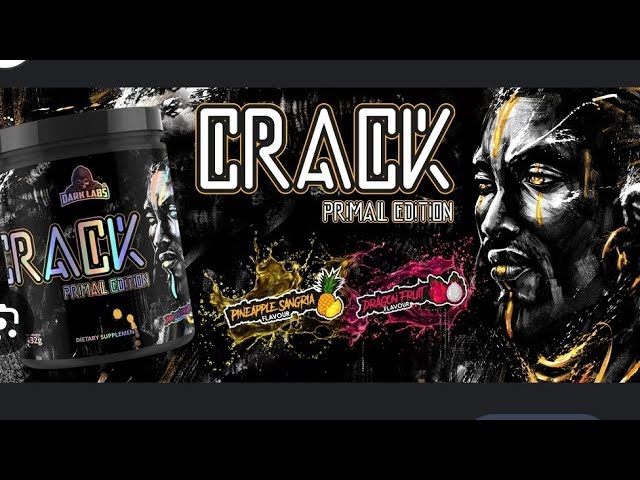 Fast and potent
This kicks in quick— like 10-15 mins and it's on. Lasts 2-4 hours of high octane energy with very clear focus and drive.
Enduring
Pretty good with no crash for me.
Another great pre-workout from Dark Labs
Excellent formulation. Somewhat similar to Flame (og) pre-workout with a few added things, like citrulline and beta-alanine. Compared to Flame og, the stim effects come on a bit more smoothly. My only complaint would be the taste of the Dragonfruit flavour… wish I would have gone with the pineapple sangria; aside from that, I like it.
I don't think the label is correct
I feel like there is allot more caffeine in this than labeled. I am no stranger to pwo and this had me over the edge. Flavor is meh. Not the worst. Get pumps and focus.
DAMN
what a rush, could not stop lifting weights - wonder what actually is in it