HUGE SUPPLEMENTS WRECKED PRE-WORKOUT V2
Let us introduce you to one of the strongest pre-workouts on the market, Wrecked. This product has been formulated to help its user take his or her workout performance and intensity to the next level.
With over 18 highly effective ingredients, you'll be able to boost your workouts from various angles. One scoop of Wrecked equals skin-tearing muscle pumps, laser focus, intense energy, and superhuman power.
The reason why it is one of the strongest pre-workout is found in the ingredients. A combined 18 clinically dosed ingredients, making one serving of Wrecked come down to over 30 grams per serving.
Compare Wrecked to your average pre-workout supplement, and you'll quickly start to understand why it is more potent than most.
WRECKED PRE-WORKOUT HIGHLIGHTS
HUGE SUPPLEMENTS WRECKED SUPP FACTS (2 Scoop Serving)
Helps improve athletic performance and strength. It also increases nitric oxide, allowing more blood to flow through the muscles resulting in a better pump.
Provides pumps by pulling water into the cells of the muscle. Makes you look super swole and keeps you hydrated.

Increases muscle endurance, strength, and delays fatigue. Has also shown to increase potentially increase lean muscle mass in clinical studies.
Betaine Anhydrous - 3000mg
Increases power output, strength, and delays fatigue. It is an osmolyte.
Been shown in studies to help improve exercise performance and muscle endurance.
Agmatine Sulfate - 1500mg
The main benefit of this ingredient is to transport more blood to the muscles and therefore increasing pumps.
An amino acid that can help with boosting cognitive performance. 
Choline donor that aids in focus.

Lion's Mane Mushroom - 600mg
Considered to be a useful nootropic compound. It may offer certain benefits, such as reducing anxiety and cholesterol. Also high in antioxidants.
Caffeine Anhydrous - 250mg
Caffeine is a stimulant that functions as a physical performance enhancer. It will help enhance workout performance by increasing repetitions
Mood elevator that can increase your overall experience.

Di-Caffeine Malate - 100mg
Consists of 75% Caffeine and 25% Malic acid. The combination allows for better digestion resulting in a more smooth release of energy. With Di-Caffeine Malate, you'll get longer-lasting energy.
A natural compound that has stimulating properties. It can help with energy, focus, and motivation.
A combination of 7 natural plant extracts to increase pumps.
Black Pepper Extract - 10mg
May increase the absorption of the ingredients in this pre workout.

Rauwolscine is a stimulant that is very similar to Yohimbine but is said to be even more powerful.
HOW TO USE WRECKED
Using Wrecked is straightforward. You take one leveled scoop roughly 30 minutes before working out. New users should assess tolerance by taking just half a scoop.
These high stimulant ingredients will start working rapidly, and you will notice the full effects once you arrive at the gym ready to hit the weights.
| PRODUCT | WHEN TO TAKE | SERVING SIZE |
| --- | --- | --- |
| Wrecked | Take one leveled scoop 30 minutes before your workout. New users may wish to assess tolerance with a half scoop. | 1 Scoop |
Wrecked Pre Workout Reviews
Wrecked
The customer service was great highly recommend
Well balanced preworkout
Finally found another well balanced preworkout that works throughout the entire workout!
Eh
Clumpy and mid effects for me.
great daily driver
check out my quick review below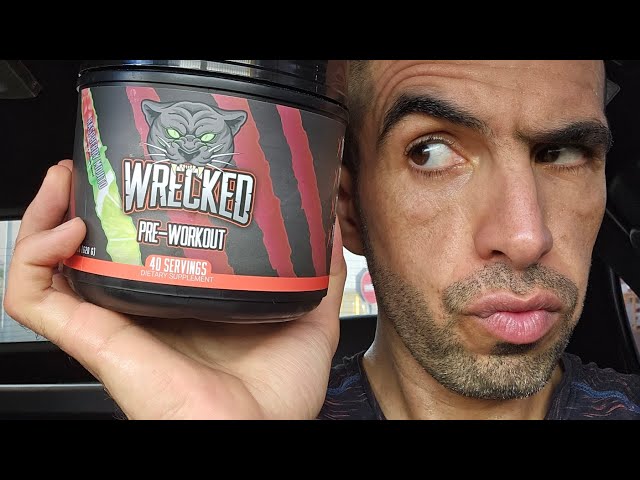 Wrecked
Love this pre-workout good pumps and focus and it also has a good taste !
Wrecked Bloody Mango
Flavor wasn't the best but overall felt great during workout sessions
Hits Hard
Nice daily pre that provides lasting energy and pumps. Definitely helps with long workouts!
Solid Pre
Super solid pre, the taste is on point. It's a pretty loaded scoop with just about everything you need.
Great product and great service
Shipping was so fast and sure is so easy to work with. Product was amazing as well