Skyrocket your daily energy naturally with SuperHuman Test, so you can get manly sh*t done all day and still have energy for that "nighttime exercise." Titillate your desires to the levels of past glory days. Just make sure your bed frame and dumbbells can handle it. With increased testosterone levels, your body is jolted into new gear for putting on muscle and putting up more weight every time you train.†
Alpha Lion Test Booster Highights
Improve Performance (inside the gym and bedroom)† 
Supports Increases in Lean Muscle Mass and Strength†
Alpha Lion Superhuman Test Supp Facts
PrimaVie® Purified Shilajit-200mg
SHODEN® Ashwagandha-120mg
TESTOSURGE®-500mg
Tongkat Ali-300mg
Diindoylymethane (DIM)-200mg
Boron-10mg
Vitamin D3-3330IU
Zinc Bisglycinate Chelate-30mg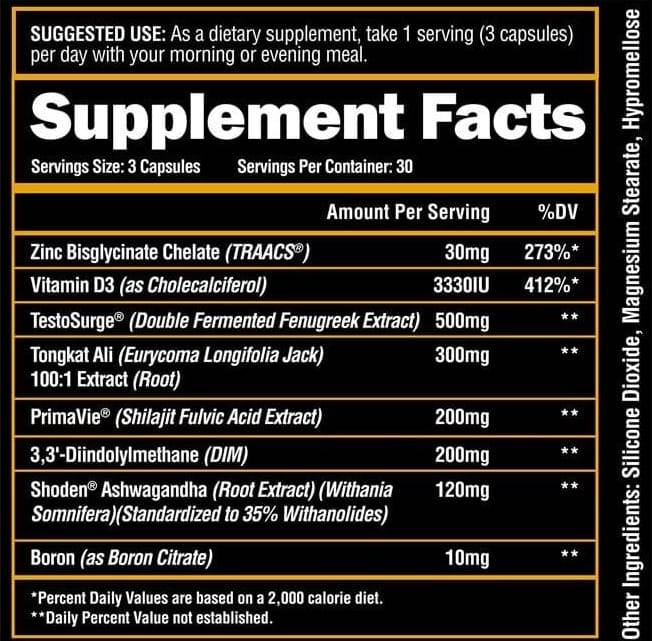 Service
Fast service, great prices, and best supplements!
Great products and quick ship time!
This SuperHuman Test is great! I've noticed a remarkable increase in my quality of life since adding it to my stack. And the ship time was so fast I was blown away!
Great product
Notice the difference In strength, energy and endurance. Must have!!
Superhuman Test!!
Awesome product! Can tell a difference! Will definitely get more!