Alpha Lion RIPFACTOR
Gains Candy RipFACTOR® is a non-anabolic muscle builder, strength booster and workout performance igniter. RipFACTOR® not only helps you surge past muscle building and strength plateaus, but helps you reach levels you didn't even think were possible. The end result is you building more muscle from every single workout, and hitting new PR's week in and week out in combination with a proper workout & diet regimen.
RipFACTOR® works its magic on your body in several different ways related to muscle growth, muscular strength and muscular endurance.
2X Greater Improvement in Muscle Endurance when compared to placebo

4X Greater Improvement in Muscle Size when compared to placebo

5.6X Greater Improvement in Upper Body Strength when compared to placebo

5X Greater Improvement in Lower Body Strength when compared to placebo
Multiple Pathways to Enhance Endurance, Strength and Muscle Growth.
Clinical studies in men showed that RipFACTOR® provides:
Enhanced protein synthesis and muscle cell growth†

Inhibition of protein degradation & muscle breakdown†

Enhanced nitric oxide generation, increasing blood flow and fueling muscle energy and endurance†

Activation of mTOR – the key regulator of skeletal muscle mass†
A June 2019 study involving the unique combination of ingredients in RipFACTOR®; reported a significant improvement in muscle endurance and strength beginning at day 14 with the numbers increasing from there. By day 56, participants saw up to 4X greater improvement in muscle size compared to the placebo group.
Modern Science Improves On Ancient Medicine
RipFACTOR® is a synergistic blend of extracts from two well-known botanicals from the Ayurvedic medicine tradition. That means it is 100% natural. The development of this complex involved screening over 2,000 botanicals for their ability to promote optimal strength, endurance, and muscle gains.
It's the patented combination of these two extracts that gives RipFACTOR its power.
Sphaeranthus indicus
Flower Heads
A traditional Ayurvedic botanical, also known as East Indian Globe Thistle, the flower heads of this plant have been used for rejuvenation, physical performance, muscle growth and longevity.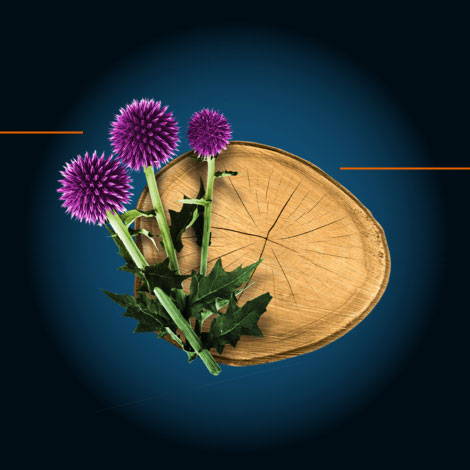 Mangifera indica-Tree Bark
The mango tree was domesticated in India over 4,000 years ago. The bark of the tree has medicinal uses reported across the regions where it grows, including antioxidant, anti- inflammatory and vasodilation.
1. On its own
It is recommended that you take 1-2 capsules of RipFACTOR per day. Ideally take it with a meal. Clinical studies are based on the 2 capsule dose.
2. Stack with any SuperHuman Post
Stack with SuperHuman Post to maximize post workout muscle growth and maxim muscle building.
3. Stack with SuperHuman Muscle
For the ultimate Muscle Building Stack take RipFACTOR with Superhuman Muscle.
Rip Factor Helps!
This is a great product. I can see gains and quicker muscle recovery!
Definitely Works
I'm three weeks into using the product now, and I have noticed a significant gain in the weights I'm lifting from before I started taking the product.
Good so far
I've only been using the supplement for just over two weeks now, but this last week I felt a lot stronger on my program compared to previous week and needed to up the weights for this coming week. So far so good, can't say for sure it's the supplement but I have changed nothing else between these two weeks. Nutrition cartel also just had a great deal on them and shipped the order quickly!
Very good
Grown a good amount of muscle in a short time
Rip factor muscle builder
I would recommend this to anyone looking to increase strength