CHEMIX PREWORKOUT 
Chemix PreWorkout is the latest pre-workout formula from Chemix to help you power through your toughest workout sessions. This formula was been designed to help boost energy and endurance so you can push harder for longer periods of time. Packed with essentials ingredients such as Beta Alanine, Caffeine Anhydrous and L-Citrulline, Chemix PreWorkout packs a punch with efficacy.
Chemix Pre Workout Highlights
Peak Performance Formula
Explosive Energy And Focus
Incredible Strength
Easy Mixability
Amazing New Flavors
Chemix Pre Workout Ingredient Highlights
L-Citrulline
Betaine Anhydrous
Kanna (Scelectium tortuosum)(whole plant)
Dimethylethanolamine (DMAE Bitartrate)
Lion's Mane Extract (Hericeum erinaceus)
Caffeine Anhydrous
N,N-dimethylethlamine citrate
Caffeine Citrate
Halostachine
Synephrine
Theophylline Anhydrous (Natural)
Alpha Yohimbine
Huperzine A 1%
Check and see if it's CHEMISTRY
Let's concoct something up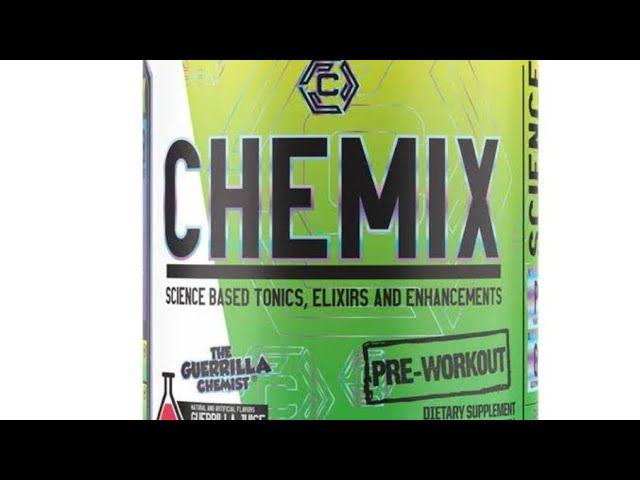 V3 Formula - Much Taken Away
The V3 Formula gives pretty long lasting energy and great focus, but I tend to get a crash from it after my workouts. In the V3, Betaine was lowered from 5g to 3g, Lions Mane Extract was lowered from 1g to 600mg, and the 1g of L-Tyrosine and 3g of Glycersize was removed completely. Not too happy about all of that. However, DMAE was increased a little from 750mg to 800mg, and Kanna was added at 1g. The energy profile was changed as well - namely the removal of Higenamine, with additions of Huperzine A and Halostachine.