Lipodrene Xtreme by Hi-Tech Pharmaceuticals
This is one of the most advanced weight loss and energy enhancement supplements on the market today. This is for those hard to please stim junkies that need something to fill their thirst! If you look closely at the pills, you will notice the tablet's colorful, speckled appearance. T
his is the triple-layer construction and spherical bead polymers. Why is this so important? These are the two cutting-edge technologies Hi Tech uses to give you that smooth, long lasting, no crash energy rush that you love.
What are the benefits of Lipodrene Xtreme?
Extreme Weight Loss

Suppresses Appetite




Instant and All Day Energy




"Feel' it Working




No Crash




For Both Men and Women


What are Lipodrene's side effects?
It is always a good idea to ask your doctor if Lipodrene is right for you. It's always a good idea to learn about the side effects you might experience. Be sure to review your product's safety label thoroughly! Because of the potent ingredients in Hi-Tech's Lipodrene, you might notice that you feel different than before you began taking the pills. You may even find that you look better, especially if you maintain a proper diet and exercise routine. Improper dosages of Lipodrene can cause many side effects. In time, it's okay to build up a tolerance, but you should never take more than the recommended dosage at anytime.. *These statements have not been evaluated by the Food and Drug Administration. This product is not intended to treat, cure, diagnose, or prevent any disease.*


Lipodrene Xtreme Ingredients
Serving Size: 1 tablet
Servings Per Container: 90

Proprietary Blend 395mg: 2-Aminoisoheptane HCl, Senegalia Berlandieri Extract (Leaves) [Yielding Phenylethylamine Alkaloids Including: Methylsynephrine, N-Methyl-B-Phenylethylamine, N, N-Dimethylphenylethylamine, Phenylethylamine] Caffeine Anhydrous, Green Tea 98% Extract (Leaves), Theobromine Anhydrous, Yohimbe Extract (Bark), Hoodia Gordonii Extract (Cactus), Naringin (Fruit), 5 Methoxytryptamine HCl, L-5-Hydroxytryptophan, Raspberry Ketones

Citrus-Rx™ Proprietary Lipolytic Blend: 250mg * Citrus Natsudaidai Hayata Extract (Fruit),Citrus Junos Siebal, Ex Tanaka Extract (Fruit),Citrus Limonium Extract (Fruit), Citrus Aurantium Extract (Fruit) (Supplying 25mg Synephrine Alkaloids)

Other Ingredients: Dextrose, Microcrystalline Cellulose, Hydroxypropyl Methylcellulose, Dicalcium Phosphate, Sodium Starch Glycolate, Magnesium Stearate, Stearic Acid, Povidone, Silica, FD&C Red #40.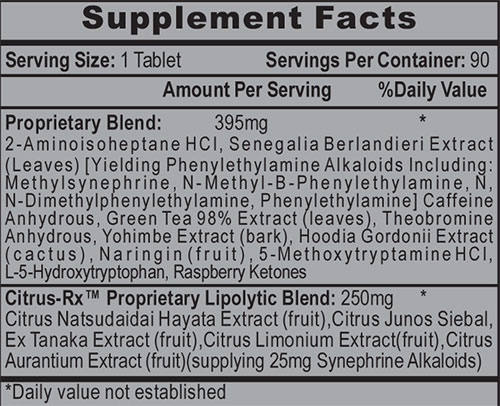 Warnings & Side Effects
Not for use by individuals under the age of 18 years. Do not use if you are pregnant or nursing. Individuals who consume caffeine with this product may experience serious adverse health effects. Individuals who are sensitive to the effects of caffeine should consult a licensed health care professional before consuming this product.
References
Catalani V, Prilutskaya M, Al-Imam A, et al. Octodrine: New Questions and Challenges in Sport Supplements. Brain Sci. 2018;8(2):34. Published 2018 Feb 20. doi:10.3390/brainsci8020034
https://www.ncbi.nlm.nih.gov/pmc/articles/PMC5836053/
Pemberton IJ, Smith GR, Forbes TD, Hensarling CM. Technical note: an improved method for extraction and quantification of toxic phenethylamines from Acacia berlandieri. J Anim Sci. 1993 Feb;71(2):467-70. doi: 10.2527/1993.712467x. PMID: 8440668.

https://pubmed.ncbi.nlm.nih.gov/8440668/
Trexler ET, Smith-Ryan AE, Roelofs EJ, Hirsch KR, Mock MG. Effects of coffee and caffeine anhydrous on strength and sprint performance. Eur J Sport Sci. 2016;16(6):702-710. doi:10.1080/17461391.2015.1085097
https://www.ncbi.nlm.nih.gov/pmc/articles/PMC4803635/
Pawar RS, Sagi S, Leontyev D. Analysis of bitter orange dietary supplements for natural and synthetic phenethylamines by LC-MS/MS. Drug Test Anal. 2020 Sep;12(9):1241-1251. doi: 10.1002/dta.2871. Epub 2020 Jun 28. PMID: 32497396.

https://pubmed.ncbi.nlm.nih.gov/32497396/