WHY IS ISOPEPT ZERO THE ULTIMATE WHEY PROTEIN ISOLATE?
LEAN MUSCLE GROWTH
IsoPept Zero is the ideal protein shake for lean muscle growth. Comprised of 5.7 grams of BCAAs and 25 grams of Hydrolyzed and Pure Whey Protein Isolate, your body will be fuelled with the ideal building blocks necessary for muscle growth and repair.
ZERO FILLERS
Why Zero? The answer is simple - ZERO grams of sugar and almost ZERO grams of fat and carbs per serving, making IsoPept Zero the ideal fast absorbing protein shake for anyone trying to gain lean muscle or lose weight. 
EXCEPTIONAL TASTE
EHPlabs is globally renowned for producing some of the best tasting sports and health supplements, and IsoPept Zero is no exception to this. Each flavor of IsoPept Zero is of premium quality and delivers the highest level of taste bud pleasure. 
IsoPept Zero Supp Facts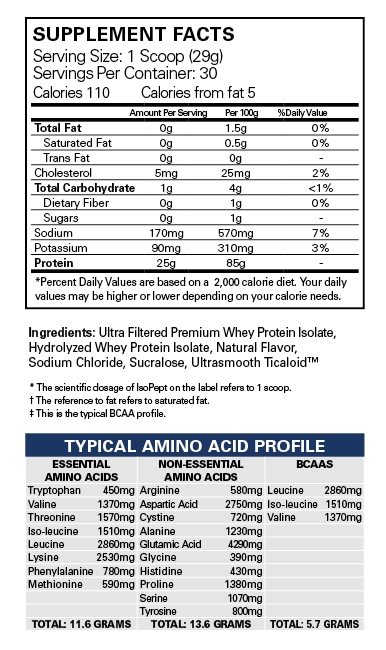 HYDROLYZED WHEY PROTEIN ISOLATE (HWPI)
The highest quality (and yield) of protein available as it is composed of partially broken down protein so it can be instantly digested, absorbed and metabolized to start the recovery process faster compared to other sources of protein. HWPI contains low levels of sugars, fats and cholesterol. Due to the low levels of lactose, this can often be a good option for those with lactose sensitivities
WHEY PROTEIN ISOLATE (WPI)
Undergoes an extensive cross filtration process to remove sugars, almost all fat and lactose to decrease absorption time to initiate the recovery process faster than other types of protein (other than HWPI).
Due to the low levels of lactose, this can often be a good option for those with lactose sensitivities.
FAQ
IS ISOPEPT® ZERO GLUTEN AND LACTOSE FREE?
 IsoPept® Zero is gluten free. During the ultra filtration process, undesirable components and allergens of whey protein are removed - this includes lactose and fat. There may still be traces of lactose present in IsoPept® Zero and if you have lactose allergies, you should test your tolerance levels prior to consistently consuming IsoPept® Zero. 
WHAT IS THE BEST ISOPEPT ZERO FLAVOR?
 EHPlabs is renowned in the industry as having the best flavor scientists and formulators. All IsoPept® Zero flavors are delicious, and your choice will depend on your personal taste and flavor inclinations. What we know for sure is that when you're drinking IsoPept® Zero, you'll think you're drinking a delicious, smooth milkshake. Our most popular flavors are; Vanilla Ice Cream, Cookies N Cream and Choc Peanut Butter.
Isopept Zero-Hydrolyzed Whey Protein Isolate
They sent me the right flavor
I accidentally ordered the vanilla ice cream flavor isopept. They were kind enough to exchange it for the chocolate decadence isopept. This is a great place to shop for supplements at nutrition cartel.
Isopept Zero-Hydrolyzed Whey Protein Isolate